(CNN) — A 14-year-old boy was being held on a murder charge Wednesday after the body of a female teacher was found in woods near the high school in Danvers, Massachusetts.
All seven schools in the suburban Boston town were closed as a result of the investigation.
The report of Colleen Ritzer's death comes two days after a student with a gun killed a teacher in Sparks, Nevada.
Authorities found Ritzer's body behind Danvers High School after the 24-year-old failed to return home after classes Tuesday, the Essex County District Attorney's Office said. Searchers found blood in a second-floor bathroom, District Attorney Jonathan Blodgett told reporters at a news conference.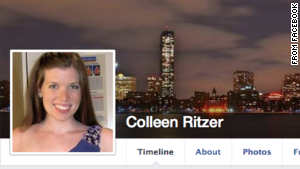 Colleen Ritzer, 24, was in her second year of teaching at Danvers High School, her aunt said.
He did not release the cause of her death.
The boy, who also had been reported missing Tuesday afternoon, was arrested early Wednesday after being found walking down a street, Blodgett said.
He was to be arraigned on a murder charge in a closed juvenile court session Wednesday, Blodgett said. There are no other suspects, he said.
Blodgett did not say whether the boy is a student at the school and said he could not release the boy's name or his connection to Ritzer because he is a juvenile.
"This is a terrible tragedy for Colleen Ritzer and the entire Danvers community," Blodgett said.
Ritzer's aunt, Shirley Martellucci, said the family was in shock.
"We're holding up as best we can," she said.
Ritzer, who lived with her parents, was in her second year teaching at the school and was working on her master's degree, Martellucci said. She had never had any trouble with students, she said.
"She always wanted to be a teacher, all her life," Martellucci said. "It's just unbelievable that someone would take her life at such a young age."
Twitter users who identified themselves as Ritzer's students were similarly dismayed.
Ritzer "was literally the sweetest, most harmless person ever," Twitter user samanthawxo posted Wednesday. "She always wanted to help anyone in any way she could."
"I honestly don't think I will ever look at the high school the same knowing my favorite teacher died there," Twitter user ingrahamsays posted.
It wasn't immediately clear why the district closed all of its schools after the discovery of Ritzer's body.
Danvers, a town of about 26,000 people about 20 miles northeast of Boston, has a high school, a middle school and five elementary schools.